Sure, I'm a crotchety outdated geezer who consistently despairs concerning the present state of the advert biz. However above all else the factor that drives me craziest is the persevering with abuse of the English language by the BDA's (Huge Dumb Companies) and their BDHC's (Huge Dumb Holding Corporations,) as they proceed having a 3rd of their revenues liposuctioned off while producing advertisements they need to be ashamed of.
Even worse than the work, is the verbiage they wrap themselves in. Keep in mind when twenty odd years in the past JWT declared they have been now not an advert company, they have been now cultural anthropologists. It's solely gotten worse since then. Certainly one of my trustworthy AdScamers not too long ago pointed me within the course of a brand new firm… Vysical… Whoever the hell they're, they inform us that they'll… "Associate with disruptors to incubate and speed up new ventures." They'll do that by… "Influencing the percentages with our serial entrepreneurs, various ability units, and structured strategy speed up and de-risk progress initiatives, growing the chance and magnitude of your success." I've no fucking concept what meaning.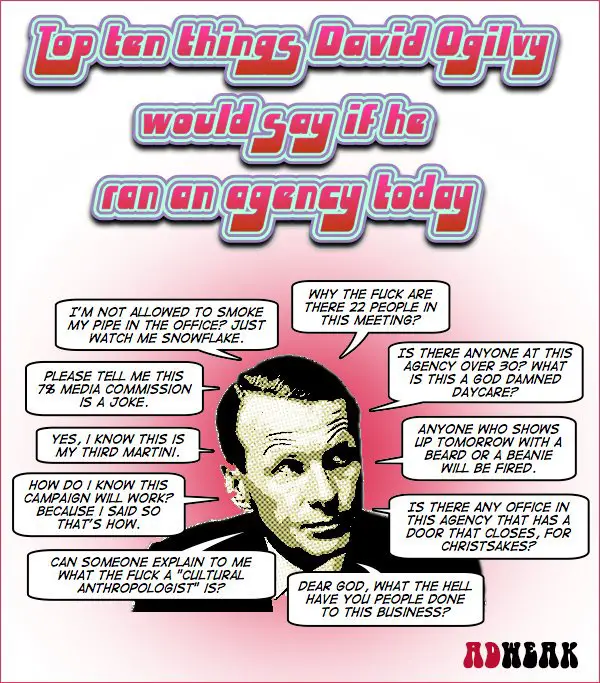 Nevertheless, the icing on the cake is that Vysical's CEO is none apart from my outdated nemesis, Howard Draft. Sure, the man who created Draft/FCB, which describing itself because the "Company of the Future" received the humungous Walmart account, solely to lose it three weeks later when it was disclosed that that they had achieved this by varied nefarious beneath the desk means. They quickly thereafter grew to become the "Company of the Previous."
Maybe the folks at Vysical ought to take a leaf out my fellow Mancunian's glorious e book… "My Paper Chase," by Harold Evans, wherein he describes his first journalistic job as a duplicate sub-editor on the Manchester Night Information. This concerned modifying the reporters verbose and typically overcooked language. "Provision for elevated retail alternatives." rapidly grew to become "Extra retailers." There's nowt improper wi that! Sure certainly.
Additional compounding the abuse of the English language are the assorted spurious titles now being bestowed on company workers… Similar to Inventive Model Assimilator, . CEO Inventive Transformation… And on and on. Why not merely Wanker in Chief? Even worse are the more and more silly names businesses are calling themselves by. Within the present crop are such beauties as… Advert Nauseum Company… Goofball Advertising and marketing… Kooky Inventive Group. Would you even remotely take into account giving your account to a bunch of douchenozzles who suppose they're so bloody intelligent to have provide you with such idiotic titles.
No matter occurred to businesses that merely known as themselves by their principal's names, O&M, DDB, AMV? Expensive outdated David Ogilvy and David Abbott should be spinning of their graves. By no means thoughts… I'll be becoming a member of them quickly. However not 'until after a number of extra gin and tonics. Maybe every little thing can finest be summed up by the basic line of Samuel L. Jackson in Pulp Fiction… "English, Motherfucker, Do You Converse It?" I'll drink to that. Sure certainly!